Creating Secure Spaces with Veracity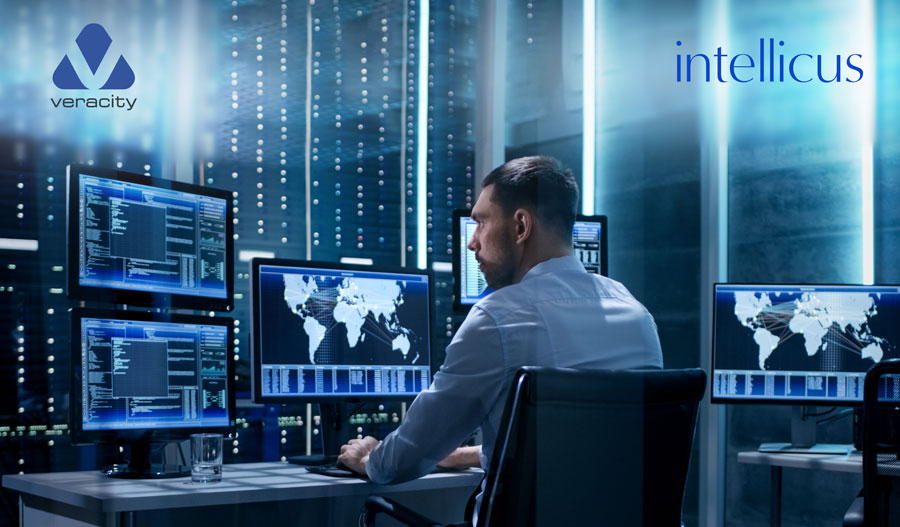 Even as cities sleep, security teams continue their round-the-clock vigil to keep cities, homes and workspaces safe. Working In command centers big and small, they must monitor cameras, fire alarm systems, temperature sensors, motion sensors, traffic light violation sensors and multiple other components of a modern security infrastructure. Ranging anywhere from a few hundred to a few thousand pieces of equipment placed across city streets, warehouses, offices and institutions, this network of equipment and people detects and deters crime so that the city may sleep easy. 
Armed with Command-and-Control centers and physical security information management (PSIM) solutions, security teams across private and public organizations work to ensure safety of people as well as assets. Using the latest in sophisticated digital security and surveillance systems, these teams generate volumes of data.  
To reduce response time and improve situational awareness, security teams need a unified interface to monitor and manage incidents generated by multiple sub-systems. For business leaders heading the security function of their organizations, it is imperative that data contained in Vulnerability Assessment and Penetration Testing (VAPT) reports is transformed into insights. 
Challenges
Modern enterprises and cities require solutions that allow active security management rather than implementing post facto, reactive measures. While security executives have several advanced security solutions at their disposal, preempting threats and issues requires gaining actionable insights. 
While the mandate for safety is shared across public and private enterprises, each organization requires custom dashboards that are tailored to represent their specific KPIs. Unfortunately, flexibility often comes at the cost of delays in project deployment and handover. Another layer of complexity is added due the requirement of integrating and correlating data from multiple sources, including real-time data polling and representation from multiple third-party databases. The successful implementation of an integrated control and command center requires addressing all these challenges. 
The Ask
Intellicus & Veracity are a
force multiplier for security infrastructure
The Intellicus solution helps in visualizing data and alarms received from advanced video surveillance systems, sensors and IoT-enabled devices as one intuitive dashboard. These powerful visualizations not only offer a 40,000-feet, 360-degree view of an integrated security system but can also be drilled-down to validate every piece of evidence. 
The predictive modeling capability of Intellicus adds an important dimension to security systems. Administrators of smart cities can leverage historical data to predict and prevent an increase in crime during certain occasions, in areas that are hot-spots or certain times during a day. Enterprises can use this modeling to predict factors and anomalies which may necessitate preventive action. Organization can then use the accompanying what-if analysis feature of Intellicus to identify the best strategy to deal with the contingency. 
Integration of Intellicus with Veracity's VIEWSCAPE helps organizations to not only monitor their security infrastructure through a unified interface, but also to leverage their data for strategic decisions. 
S

implify

ing

analytics and visualization complexities

 
Integrating Intellicus into security solutions frees engineers from the need of coding adapters for each client's data sources. Intellicus' platform includes a graphical interface that makes data integrating a matter of minutes of  for the Veracity team, enabling them to expedite delivery to customers. 
In addition, the partnership allows security solution providers to extend support beyond SQL databases. From flat files and spreadsheets to advanced data base systems, ERPs, REST Web Services or cloud-based storage—integrating with Intellicus allows VIEWSCAPE to seamlessly integrate the entirety of customer data into one data pipeline. 
S

implify

ing

analytics and visualization complexities

 
Intellicus powers automated and accelerated delivery of insights from Command–and–Control centers for decision makers. Intellicus' low code interface allows faster designing, developing and deploying of dashboards while also reducing the dependence on IT.  
Intellicus' support for most popular databases along with REST and JSON APIs also allows the pre-sales team to focus on the data analytics and visualizations best suited for customer needs. The plug and play API and database support also gives them the ability to deploy proof of concept for use cases faster. 
The power of analytical insights yielded by Intellicus is matched by its flexibility to customize dashboards to suit business needs. Whether it is changing the type of a visualizations, choosing which data or time period to depict on a chart or applying brand colors—all customizations are possible directly through the Intellicus platform. 
Partnerships that create the big picture

 
Intellicus and Veracity combine analytical insights with single display interfaces to foster data-driven decisions that transform the security landscape. Intellicus' analytics competencies and Veracity's Command-and-Control center expertise preempts and prevents incidents, helping security executives in creating safer spaces within their organizations. 
What's more, Intellicus brings the flexibility and power that allows organizations to 'future-proof' their investment. As organizations upscale to best-of-breed security technologies to meet their evolving needs, business leaders can rest assured that Intellicus will keep pace. 
Whether you safeguard an office, a multi-location setup or a whole city, visit www.intellicus.com/contact-us to learn how Intellicus can assist you in creating safe environments.